Welcome to the CSY Owners Group
CSYer's Breakfast at SSCA Gam
Another CSY breakfast was organized for Saturday morning of the SSCA Gam.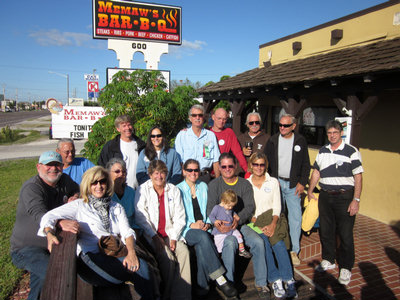 The following CSY friends were there:
Dave & Sherry - s/v Soggy Paws - CSY 44 WT
Tom & Lilly - s/v Tiger Lilly - CSY 44 WO
Warren & Kathy - s/v Sea Notes - CSY 44 WT
Peter & Jan - s/v Jazz - CSY 37B
Jack, Nicole, & Marietta - s/v Kitty Hawk - CSY 44 WO
Rick - s/v Nautilus - CSY 44 WO
We also had half a dozen other non-CSY cruising friends join us for breakfast.  We had a great time sharing cruising stories and 'fixing up CSY' stories.
The SSCA Gam is the annual meeting and 'gam' (cruising get-together) for the Seven Seas Cruising Association.  The Gam is usually held in Melbourne, FL on the second weekend in November, and we always schedule a CSY Breakfast there.  We hope to see all of you next year!!
Last Updated (Monday, 14 November 2011 11:00)
CSY 44 Wins Classics Race at Foxy's 2010 Wooden Boat Regatta

This just in from Glen Hurd, the owner of CSY 44 'Sundance'.

It is with great pleasure and pride that I am able to announce that a CSY44 has successfully won another Regatta!  Sundance, CSY44 WO #39 (1977), claimed victory in the Classic's Race at Foxy's 2010 Wooden Boat Regatta on the island of Jost Van Dyke in the British Virgin Islands. 

Traditionally, this legendary Regatta has been solely for wooden boats.  However, due in large part to the reduction of classic wooden boats sailing the Caribbean, a new Classic's class has been added for boats over 30 years of age and made of any material.  What a thrill to see one of our "classic plastic" CSYs honored with a Regatta victory!

Following a 3 and 1/2 year full restoration in Trinidad, Sundance returned to her home port in the Virgin Islands last April.  The victory at this year's regatta is even sweeter because it has come on the eve of Sundance departing the Virgins for Leg 2 of her Circumnavigation.

Last Updated (Friday, 04 February 2011 23:05)

CSY Links Added!

We are continuing to fill out the site.  We have started to flesh out the links page.  If you have links to contribute you can post them on the Links post in the forum (look in the General Discussion section).

Last Updated (Monday, 01 June 2009 05:18)

More New CSY Links

Thanks largely to Peter Roach's efforts, we have 2 new very interesting CSY links.

Instructions on how to add your boat to the Map are in this forum post:

http://www.csyowners.com/forums/index.php?topic=70.0

Instructions on how to update the Wiki are in this forum post:

What other features are coming?

Dave has unrestricted access to both the Topica archives back to 1999 and the database that holds the messages for the new forums. All he has to do now is concoct a way to pull all the old Topica messages onto his computers, mundge them into the format that matches the expectations of the new forums' database and then insert them into their own 'Archives' forum on this site. Simple!

You can also expect a wiki and a place to blog fairly soon.

A wiki  is a collection of Web pages designed to enable anyone with access to contribute or modify content, using a simplified markup language. Wikis are often used to create collaborative websites and to power community websites. The collaborative encyclopedia Wikipedia is one of the best-known wikis. Wikis are used in business to provide intranet and knowledge management systems. Ward Cunningham, the developer of the first wiki software, WikiWikiWeb, originally described it as "the simplest online database that could possibly work." "Wiki" (/wi?ki?/) is a Hawaiian word for "fast".

A blog  (a contraction of the term 'web log') is a type of website, usually maintained by an individual with regular entries of commentary, descriptions of events, or other material such as graphics or video. Entries are commonly displayed in reverse-chronological order. "Blog" can also be used as a verb, meaning to maintain or add content to a blog. Many blogs provide commentary or news on a particular subject; others function as more personal online diaries. A typical blog combines text, images, and links to other blogs, Web pages, and other media related to its topic.

Last Updated (Friday, 29 May 2009 14:03)